5 ideas for a Spring home refresh
Spring is the season of awakening and new beginnings. It's time to shake off the sleepiness of the Winter, making space for all things new. Don't you agree?
Days are getting longer and warmer and we want our homes to reflect that bright light and the bloomingness we see outside.
Every time the season changes I update my home decoration. Autumn is all about cozy and warm color schemes but Spring is when pastel shades and floral patterns kick in. Even the most neutral and timeless home decor loves seasonal accents.
For this blog post, I put together 5 ideas to go from Winter coziness to Spring cheerfulness with a few but well-tested tweaks.
5 ideas for a Spring home refresh. Flowers, flowers, flowers
When Spring comes, I can't help but think about the abundance of flowers of this season, the pastel colors, and all the nature-inspired details that we can incorporate into our home decoration. To give your home an instant Spring injection bring in flowers or blooming branches.
I personally love magnolia branches (even though their flowering is very short). I've read that magnolias symbolize positive virtues such as nobility, perseverance, dignity, and love for nature. I guess it's true because their flowers are so precious and elegant and I think they add just the right amount of color and depth to your home.
Magnolias are my favorite but this season offers many alternatives such as cherry or Forsythia branches or, especially between Winter and Spring, willow branches. And, of course, lots of flowers to choose from if you want to try your hand at creating flower arrangements for your home. Scroll down to see some inspirational photos.
If you are looking for flower and plant suppliers have a read at these 5 plant shops that deliver to your doorstep.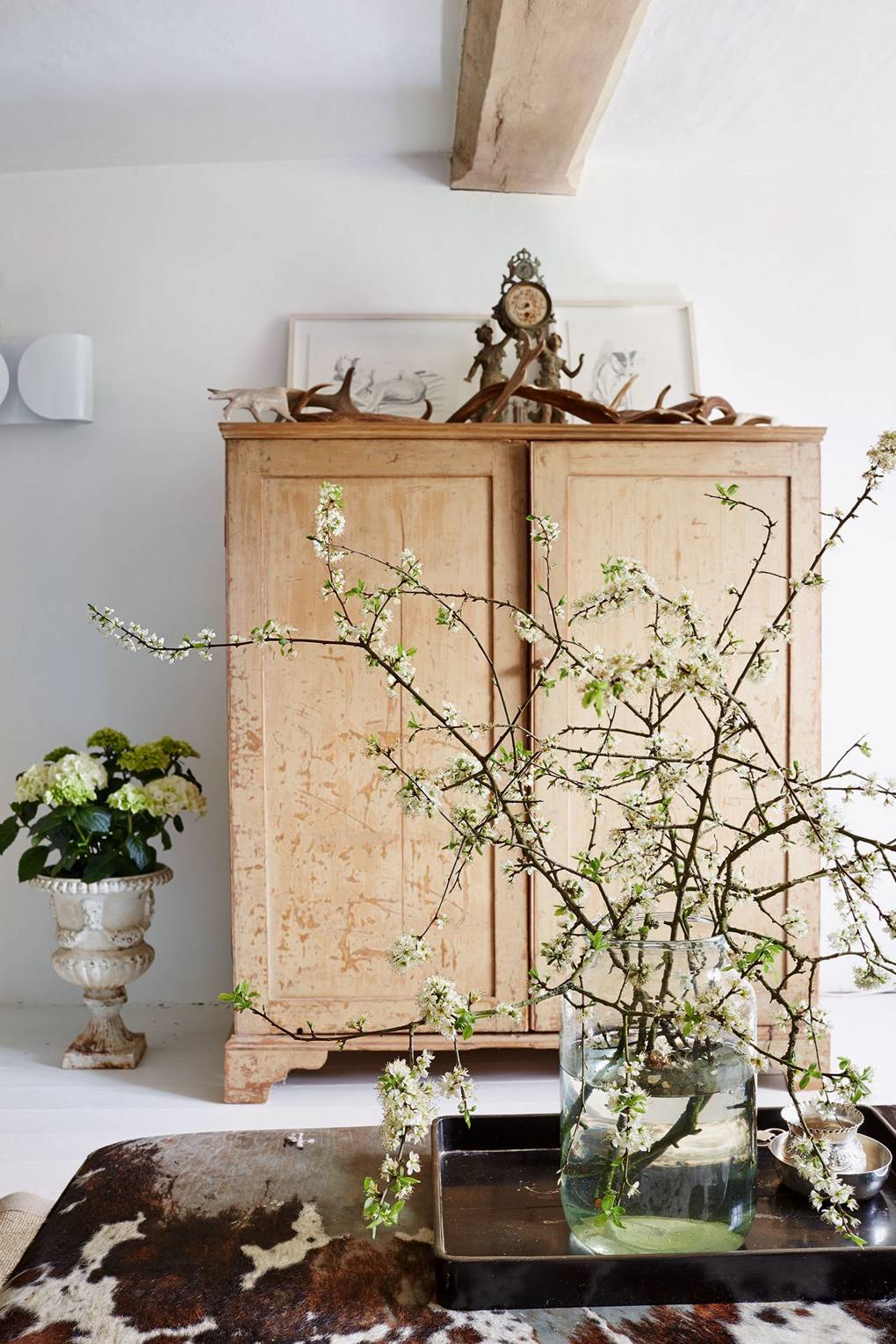 5 ideas for a Spring home refresh. Lighten and brighten your textiles
From bedding linens to cushions and blankets, my advice is to tuck away thick textiles trading them with lighter ones. For example, I have cushion covers in dark colors I only use in Winter and others in softer tones that I change as soon as the weather becomes warmer.
Be consistent with your home color scheme but soften the color tones to increase the feeling of openness that Spring always brings.
5 ideas for a Spring home refresh. Decorate with baskets
Among all the decoration items I think baskets are the 'springiest'. I put together a gallery with a selection of my favorite natural fiber baskets last year and I can't stress enough how much functional and decorative they are.
Use larger baskets in the living room for magazines or toys and smaller baskets in the entryway to keep all those little things that need to be accessible but not in plain sight.
5 ideas for a Spring home refresh. Incorporate Spring onto your tabletop
If you are already among my blog's readers or followers on Instagram, you know that I have a soft spot for table settings and decorations. With Spring just around the corner, my advice is to freshen up your white china with the addition of one or two colorful or decorated pieces, like a pitcher or a serving plate.
More ceramic products in this blog post.
5 ideas for a Spring home refresh. Swap out your artworks
Think bright colors, soft pastel hues, and springy landscapes. Invest in some prints you can swap out according to the season. This way you can update your gallery wall in the blink of an eye!
What are your favorite ways to freshen up your home for Spring? Let me know in the comment below.
---