Spring has sprung and nature is showing off some really vibrant color shades. What if we catch some of those beautiful colors and bring them inside our homes? For this blog post, I collected 6 colorful kitchen ideas to steal inspiration from.
Let's go neon!
The first time I saw the kitchen of this apartment, I was all "oohs and ahhs". The architects worked with the so-called 'secondary rainbow' which means that this house is all about a low-key, misty color palette. The kitchen though has a more vibrant green tone and really stands out from the rest of the house.
Look at the floor tiles in the kitchen: their colors recall the desatured colors in the rest of the apartment while the green of the kitchen cabinets spruces up the overall look.
Kitchen designed by Nest Space Design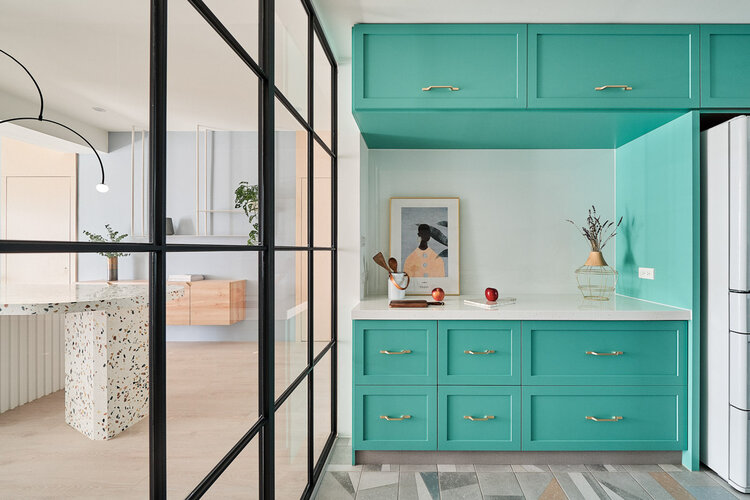 Mix & match cabinetry
This kitchen design shows how a mix of colorful kitchen fronts and a marble countertop works very well to create a playful area. In this design, the colors are used as if they were actual materials. It's not easy to pull together a design like this, especially with a chequered floor. But the result is definitely unique!
Colors also help in creating continuity between the kitchen and the dining room. The green table and lamp echo the shade of green of some of the kitchen panels.
Kitchen model: MATCH, designed by Muller Van Severen for Reform
Two-tone kitchen
I think this is the best way to use color to segment the space, especially in an open kitchen like the one below. The coral wall divides the kitchen area from the bathroom, while the terrazzo backsplash and countertop highlight the cooking space. This design is young and refreshing!
The terrazzo finishings tie up both the gray cabinets and the bright coral because those color hues have been brought in the terrazzo texture itself. Details make all the difference!
This kitchen has been designed by Architects Andrea Serboli and Matteo Colombo
---
IF YOU ARE LOOKING FOR MORE COLOR INSPIRATION, HAVE A LOOK AT THESE ARTICLES:
---
Monochromatic kitchen
This is the way to go if you want an immersive experience. You can use more or less any color of the rainbow depending on the effect you want to achieve.
This is definitely a bold choice and makes the kitchen the heart of the house (literally).
From top to bottom: Plaini and Karahalios architects // Jaune
Muted colors + Wood
You don't have to stick to just one kind of material to create a colorful kitchen. You can use different textures to actually 'paint' the kitchen. Combine wooden and colorful cabinetry and you'll obtain a warm, paired-back design that I find particularly welcoming. Check for yourself!
If you want to create a relaxed atmosphere, go for plywood or washed wood + muted colors. On the other hand, if you are looking for a more impactful design, choose darker woods and combine them with stronger colors such as navy blue or petrol green.
From top to bottom: Emma O' Meara // CO Adaptive Architecture // Fraher & Findlay
Just a pop of color
If you don't feel like using colors on large surfaces of your kitchen, no worries. You can start by adding color little by little and when you feel more confident you can take the game to the next level.
There are many ways to add a pop of color to your kitchen: you can go for colorful appliances or backsplashes or just work with the kitchen fittings (knobs, handles, sinks…) and utensils — just as I did in my kitchen.
From top to bottom: Toniton // Holte Studio kitchen // Elsa Billgren
What is your favorite way to incorporate color in your kitchen? Let me know in the comments below.
P.S: If you are looking forward to the warm season have a look at these 10 outdoor kitchen ideas for dining alfresco.