My edit of the best 20 cordless lamps
Lately, both for my home and for some of my clients' balconies, I have been making a lot of research on cordless lamps. I can easily understand why they are so en vogue right now: the convenience of having a lamp that you can easily move everywhere you need it and that doesn't create a mess of wires is priceless. I bought myself a cordless lamp for the desk and I love it. It's really, really practical.
The only flaw is that every now and then you have to recharge it and before buying one you have to pay attention to the battery life. To help you choose the right model, I've made a selection of the best 20 cordless lamps on the market right now.
P.S. This is not a ranking list, it's rather a selection of the lamps I think are the best options. At the end of the post, you'll find a visual recap of all the lamps.
This is the exact lamp I have on my desk. It's a quirky table lamp that recalls the shape of a mushroom adding a bit of playfulness to the space. It has 3 levels (100% – 70% – 40%) of dimmability that you can adjust thanks to a gold dimmer. Operating time when fully charged: 10 hours (in highest setting) // Charging time: 8 hours.
The way this lampshade spreads the light in a room is almost unbeatable and it's glare-free, an aspect you want to keep in mind if you are planning to use it nearby a computer. I have a Panthella floor lamp in my studio and I assure you that the illumination is really comfortable. Battery lifetime: 5 hours at 100% // Step-dim: 0% – 10% -33% -100%.
As the name says, its shape reminds me of a salt & pepper bottle (or an hourglass). It has a flat, touch-sensitive lamp head: switching on and off is done with a tap of the finger. Touch and hold to dim. This lamp can be used both indoor and outdoor thanks to its splash-proof surface. At full power, it provides for 8 hours of light // The battery life increases up to 100 hours when the lamp is dimmed. Outstanding!
Another portable table lamp from &Tradition but with a different twist than the Setago. It has an industrial-inspired look with a fluted aluminum base and a canvas lampshade. Operating time when fully charged:
1 battery: 11 hours; 2 batteries: 20 hours // 3 levels (100% – 70% – 40%) of dimmability.
Carrie lamp (MENU)
This is probably one of the most known portable lamps. It's functional (the handle of the basket-like case makes it a kind of bag while on the go) and it spreads a cozy light. You can move it around your home easily or bring it to your en-Plein-air picnic since it's suitable for outdoor use as well. Lithium battery (10-hour capacity) // Dimmable, 4-step (0%, 10%, 50%, 100%).
Colorful and lightweight, this lamp puts a smile on any room you'll bring it in. Designed in 2017, it's for indoor use only. Something special about this lamp: thanks to a powerful magnet, it can be affixed to metal surfaces — even vertical walls. Battery life: from 5 to 20 hours. Battery charging: 10 hours.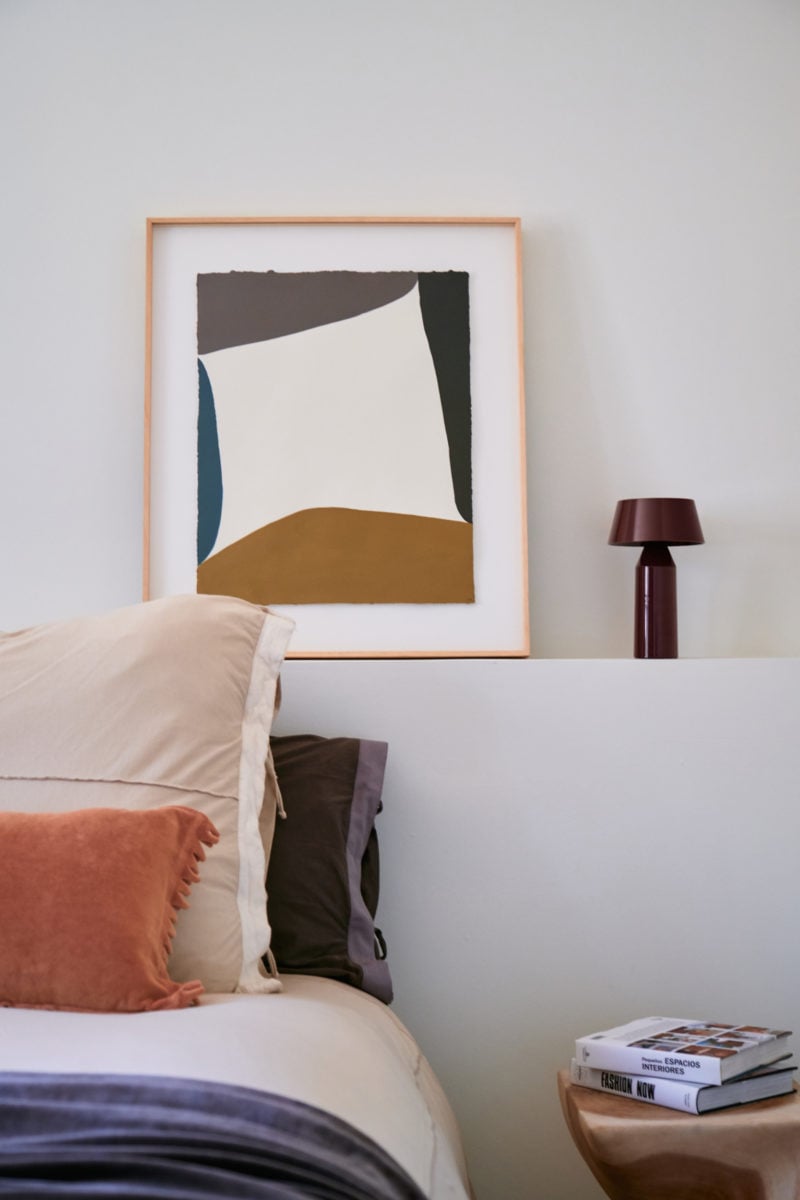 PC Portable (HAY)
The matte scratch- and water-resistant finish makes the PC Portable lamp a lovely companion no matter the location (indoor/outdoor). It's available in different mono-color designs or playful color combinations. 10 hours of autonomous usage // Integrated touch step dimmer switch on the base of the lamp.
Phare LED (Menu)
This lamp is one of the most versatile designs. It can be placed, hung, or taken outside (in dry weather only). Originally designed for apartment no. 50 at Le Courbusier's 'Cité Radieuse' in Marseille, has a timeless aesthetic that matches with any interior style. Just a little flaw: there in no dimmer.
For indoor use only, this lamp by Verner Panton is made of polycarbonate while the dimmer is made of steel. It's lightweight (a bit smaller than the traditional version) and available in numerous colors. The rounded shape makes it a lovely addition to a living room but it can be an option also for nightstands. Operating time when fully charged: 10 hours // Charging time: 8 hours.
Very geometric, a dimmable lighting solution that works in a multitude of settings. The look is minimal and it's available in three finishes: black, cashemire and gold. Provides up to 12 hours of light at a time.
Easy Peasy (Lodes)
This is one of the most elegant cordless lamps I know of. It has a sculptural form that resembles the shape of bells and it's available in a selected range of beautiful finishes. Designed by Luca Nichetto in 2020, it consists of two rounded elements made of blown glass. Dim-to-warm functionality creates an intimate atmosphere.
The operating time of this lamp is 16 hours which makes it one of the best performing cordless lamps in the current market offer. Artemide needs no introduction and this lamp is no exception. The body is a transparent optical device with gradients to carry and distribute light. It has a very contemporary look and is available in finishes that never go out of fashion: copper, white, and aluminum.
Dipping Light (Marset)
It's not a coincidence that the name is 'dipping light': the various layers of paint draw concentric circles and capture the light, moderating its intensity. It creates a beautiful and warm atmosphere and can be used in a teenager room as well as minimal interiors to give a pop of color. Battery life: from 5 to 20 hours. Battery charging: 10 hours.
Iconic as the architect & designer who designed it, Gae Aulenti, the Mini Pipistrello is a real timeless piece. While the lampshade is always white, you can customize the color of the base in white, dark brown, or agave green. It's dimmable with an on-off touch sensor. It's not the best in terms of charge duration (6 hours) but it's definitely one of those "must-have pieces" for design lovers.
Portable, playful and refined. This lamp by Circ M is very simple yet elegant and suitable both for indoor and outdoor spaces. It provides more than 6 hours of light when fully charged and it's dimmable. Handles available in two different sizes.
Pepa lamp (Astep)
In this selection the Pepa Lamp is the only one made of solid wood. It's inspired by the pepper grinder, hence the name Pepa, and has a conical reflector that can be rotated to adjust the light. Battery duration: 7 hours.
Narciso small (Penta)
As stated in the description on Penta's website, "the cone of this lamp splits up to spread and reflect the delicate light of the lighting body". This is a special cordless lamp since it also incorporates a Bluetooth audio speaker. Available in two different sizes.
Ginger portable (Marset)
This is the third cordless lamp I suggest from Marset and it's part of a wider collection that continues to expand over time. The look is sleek and minimal. The Ginger lamp provides for a glare-free lighting up to 20 hours.
Designed by Space Copenhagen in 2020, it has a vintage look and it's available in one finish only: bronzed brass. The sturdy base is completed with a more curved lampshade that, as in the Setago lamp, reminds of a mushroom. Operating time when fully charged: 1 battery: 11 hours; 2 batteries: 20 hours.
Plisy is a stylish yet technological interpretation of the traditional garden lantern and is made of polyethylene (which means that is suitable for outdoor use). I fell in love with this lamp when I saw that it also has a base that turns it into a floor lamp. I really love when products are versatile and make room for creativity. A seven-hour charge provides ten hours of light at maximum intensity.
Which is your favorite cordless lamp? Did you already know those models? Let me know in the comments below.
PIN THIS EDIT FOR LATER